Sunshine Kisses Quilt Pattern
Hello everyone, welcome to All Day. We are here once again to share with you everything we know. We are looking for new patterns all the time, in order to test, prove new techniques and be able to bring them here for you. Whether it's your first project, order, or a new form of leisure, in crafts you will find a new friend and here a community with open arms.
We want to show you a new quilt pattern, Sunshine Kisses. It's a colorful quilt, assembled from blocks and it looks like this, incredible. But as much as we need blocks, the first thing we need to do is cut stripes. That's right, and this step helps and speeds up the next steps.
Before we think about that, let's talk a little more about the uses of this versatile item. We see quilts filling all environments. Usually the colors and prints match the decor, making the environment more cozy and inviting. But they don't just decorate, they are indispensable on the coldest days and make all the difference when snuggling up on the sofa or in bed.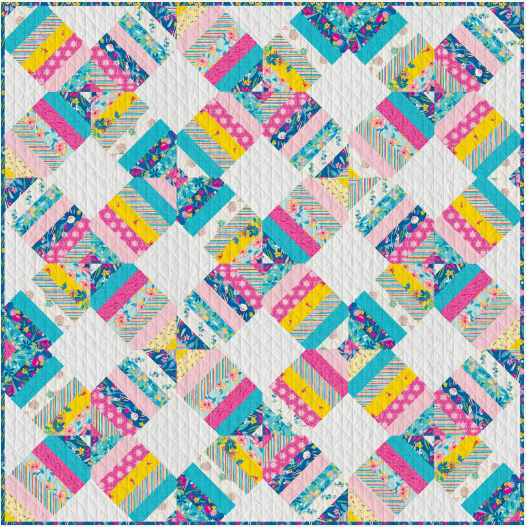 Whether to decorate the living room, the bedroom for the couple or the little ones, or to stay outside, making quilts is a great hobby. These are big projects, so don't be in a hurry, be patient. Choose quality fabrics, separate the pins and threads and understand the pattern. It's no use starting a piece without understanding the instructions.
A great ally when it comes to quilting, which we often don't remember, is the iron. Whenever you need to use it, the pattern will tell you. How about making this quilt as a gift for a friend? There's no way not to like it, it's a beautiful form of affection. Come learn all the sunshine kisses tips with us.