Hey guys, nice to meet you here. You noticed that we didn't show up for a while, but we are here to recover and share everything that we separated for you. We hope to find everyone well, healthy and eager to learn. But tell me how these days were, did you manage to keep practicing?
This is the best and only way to evolve. You notice that the patterns are getting simpler to understand and the rounds easier and faster to do. Today's pattern, sunflower dress, is another amazing model. The sunflower details on the dress make all the difference, a touch of color and joy for the dress.
Crochet dresses are incredible and are very successful at all ages. Here we are making a dress for the little ones that can be adapted to other sizes. With the right tarns, you have a comfortable dress that, with the right care, will last for many seasons.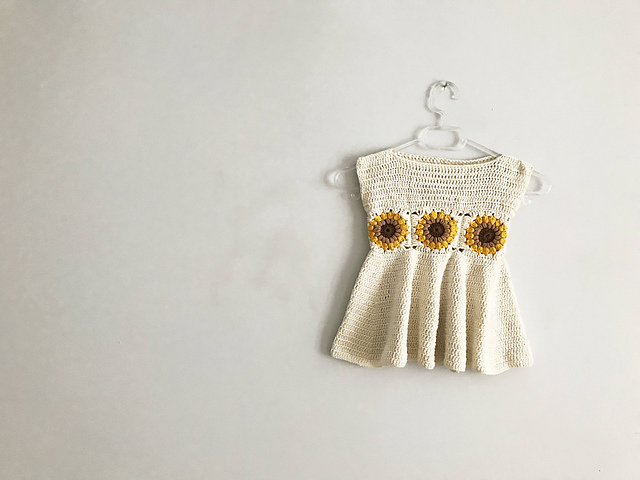 Image / Pattern / Tutorial:  Ravelry
At the waist, to make the sunflower detail, you will make the famous granny squares. There are many models of flowers that you can make, and several of them you can find here at All Day. Try to keep the color contrast in the yarns to keep the flowers stand out. You will see how amazing it looks.
With a simple adjustment, you can change the size of the dress, making it suitable for other measurements as well. If you want to put together the complete look for your little one, you can complement it with a tiara and crochet shoes. Match the colors and details, there's no mistake. You can find the sunflower dress pattern on Ravelry. If you have any doubts, talk to us here in the comments. In addition to us, the artisan community is always willing to help each other. We hope you like and enjoy the tips of this pattern. We'll be back soon with more.