Stargazer Quilt Pattern – Patchwork Tecnique
The stargazer quilt is an excellent option for those who want to give a different and artisanal touch to the space. This craft is made using the technique of sewing that works by joining different pieces one by one, which can give rise to multicolored drawings or plans that will compose bedspreads, towels and other bed, table and bath accessories. The color combination of the quilt is always dictated by personal taste and lots of creativity. Spectacular results of patchwork designs can be obtained by mixing different fabrics such as leather, wool, felt and especially cotton.
Sewing a stargaze quilt at home can be easier than you think, especially given the patterns available, always with useful and detailed instructions. You can choose to sew individual patches, assemble block designs, create volume with foam fillings. The stargaze quilt is commonly found in bedrooms, however, it's use also extends to other environments, as the technique can be applied to blankets, pillows, curtains and even chairs and armchairs.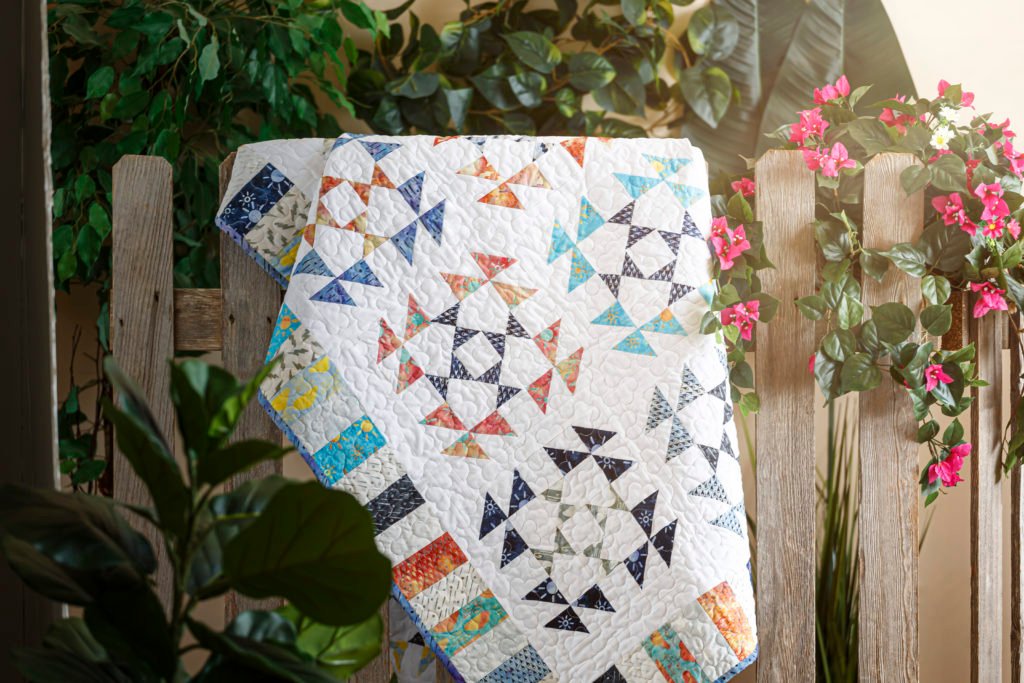 To make the quilting easier than ever before, you can precut the fabrics used as the building blocks of most projects. These quilt fabrics like layer cakes, charm packs, and jelly rolls make textile patchwork so much easier.
The multiplicity of colors of a patchwork quilt can act as a great facilitator in the composition of the decoration. It exponentially increases the possibilities of combination with the shades of other accessories, furniture and walls.
How To Do The Stargazer Quilt
To do this wonderful quilt, size 58"x71'', you'll need:
1 Roll x 2 ½" Print Strips
¼ yd. x Light Print Fabric
1 Roll x 1 ½" Background Strips
1 ¼ yds. x Background Fabric
3 ¾ yds. x Backing Fabric
Check the full pattern FREE and the video tutorial to produce this quilt for you or present someone you love!