Gingerbread House Ornament – Free Pattern
Hi my loves! We haven't seen each other for some time. I'm curious to know if you guys made any new patterns these days. Tell me here in the comments. I immersed myself in Christmas, looking for new ideas, decoration items and ornaments for our tree. I fell in love with Gingerbread House and felt I should share this idea with you too. Look how beautiful this little house is, super delicate, colorful and, believe me, simple to make. 
You won't need a lot of materials or a sewing machine. That's right, you can do all the sewing by hand. It's a small model and it's not too thick, there aren't several layers of fabric. So you can sew by hand, no problem. For those of us who have been sewing for a longer time, we always have some scraps left over from our projects. We might as well enjoy them now, at the gingerbread house.
And the details are up to your creativity. Take the opportunity to put ribbons, sequins, beads. In the pattern you will see the template with the measurements and each part that you will cut to assemble the house. When making the markings, remember to use markers with washable paint. It's a different idea for you to add to your Christmas tree. Another ornament, but this one with a special touch because you made it.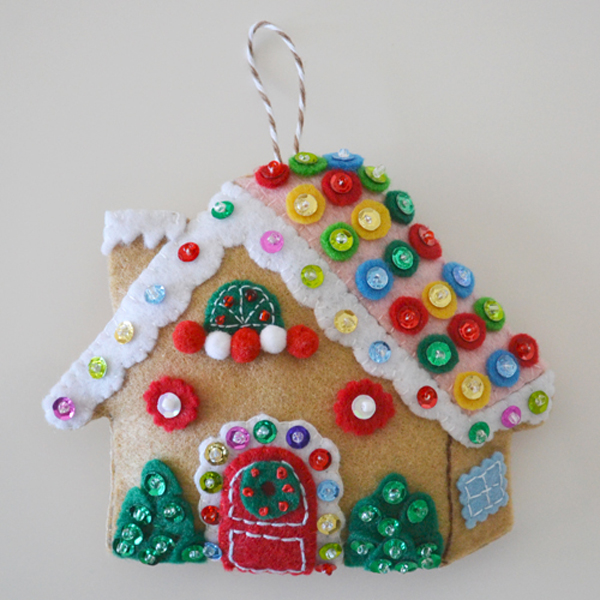 Image / Pattern / Tutorial: Down Grapevine Lane
Shall we talk about the materials? Below we leave the list of what you will need. They suggest making gingerbread houses out of felt. It is a soft fabric and very easy to sew by hand. But this is a suggestion. I made it with other types of fabric, which were left over from the quilts, and it was amazing too.
Felt in light brown, white, dark green, red, light blue, pink, and whatever colors you wish to use for the roof tiles (I used a mixture of green, red, yellow and blue);
Embroidery thread in colors matching the felt;
Mix color sequins;
Seed beads and a beading needle (thinner than an embroidery needle);
Ribbon or string for the loop on top;
Stuffing material (e.g. Hobbyfill).
Christmas comes with this feeling of reunion, of having the people we love close to us. You can take advantage of these ornaments and give gifts to dear friends, for them to decorate their homes too. And if you have children, why not invite them to participate in this moment? I'm sure it will be really cool for everyone.