Flower Quilt – Amazing Patterns FREE
Decorating your home for the sunny seasons can be a challenge. You can create new patchwork with decorative floral designs by adding splashes of vibrant color to the room. The bedspreads come in a variety of sizes, adapting to single, double, king size or sofa beds, an extra for your living room decoration.The patchwork quilt leaves the room where it's cooziest, and it is these little details that make a house truly become a home. For craft lovers, this type of quilt is a great dish to make at home.
As the name implies, it is a quilt made with patches of different types of fabrics joined by a technique called patchwork. Althought they are different fabrics, you can create a mega colorful piece or choose shades from the same color palette.
The patchwork quilt with a flower print is the classic model for this type of garment. The flower print options that can be used to create beautiful quilts are beautiful. The flower quilt is beautiful, classic and loved for years.
Who has never been to grandma's house and seen a beautiful crochet quilt, right? If you want to make this type of piece for your home, we have some patterns for you to get inspired and make a beautiful quilt at home!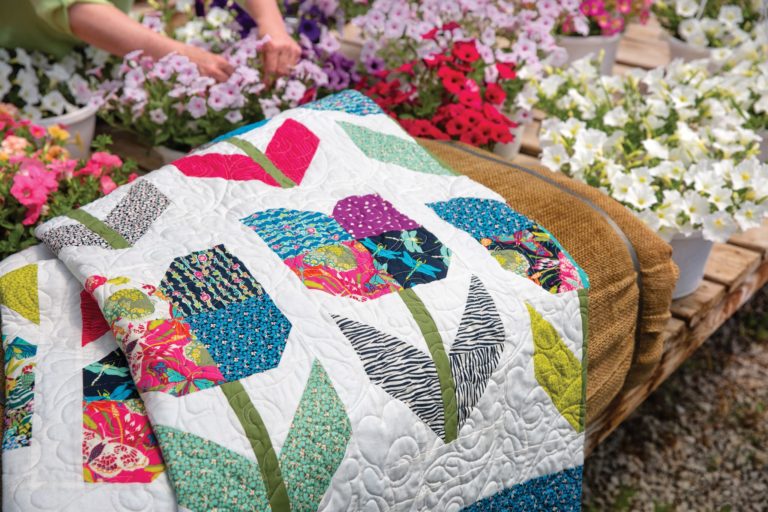 Materials Needed for the Flower Quilt
1 Pack of 10″ Squares (Print)
3 ½ Background Fabric
1 ½ yds. of Outer Border
2 ¾ yds. of Backing (108" wide)
Scissor
Measuring tape
In the end, you'll have a quit size 89" x 90".
This quilt pattern is the perfect way to show off all those lovely yet smaller pieces.
Did you like our quilt inspirations? Check the full pattern and make the most adorable flower quilts.