Butterfly Baby Quilt Pattern
Hey dear colleagues, welcome to All Day Crochet. Here is our meeting point to learn and share everything we know about crafts. New patterns, techniques and tips, you'll find it all here. That's why we always remember that, if you want, you can leave your feedback here in the comments. We always want to improve and bring you what you prefer.
It's been a while since we've been here, we missed it. That doesn't mean we stop testing new patterns. I hope you also continued, kept practicing and finishing projects. Today we want to show you a quick and incredible pattern, the Butterfly Baby Quilt.
It's another quilt model that you can make from the scraps you have there. Remembering that this is one of the ideas to make the quilt very colorful. But you can also choose one or two prints and focus on that color palette. Keep testing and playing with colors, I'm sure beautiful combinations will emerge.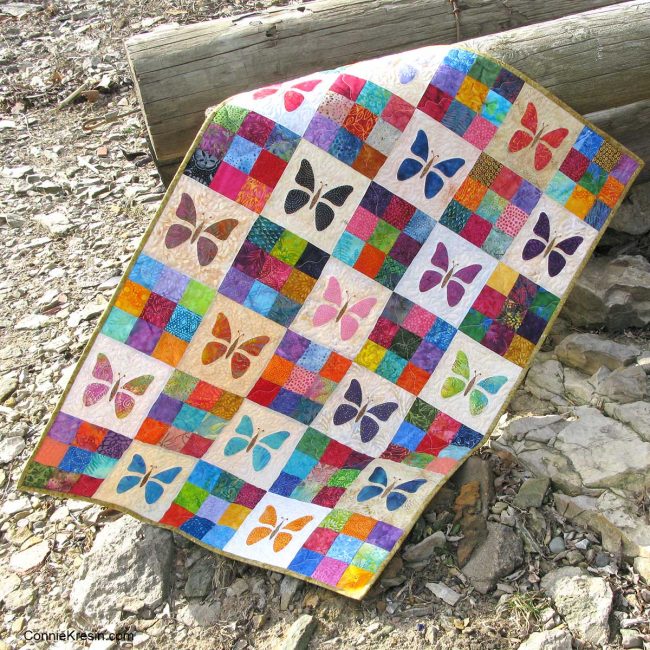 Image / Pattern / Tutorial: Connie Kresin
Baby quilts are essential items for those who are putting together a layette or have a small baby at home. They are important to keep them snuggled in the stroller, in the crib, anywhere. On colder days they become even more important. It's worth remembering the importance of choosing quality fabrics that don't irritate little ones' skin. Care must be taken when it comes to children's items.
The finished butterfly baby quilt is 30″ x 42″. In the pattern you have instructions for each cut, each appliqué instruction. And don't worry, the template is also available in the pattern. Some details of the butterflies are made with the pen, as you can see. Make sure they are waterproof, otherwise you will have to redo them every time you wash them. Now it's time to read the pattern, separate the materials and start this beautiful quilt, let's go!