Retro Ornament Throw, a beautiful blanket with a classic look that you will love for sure. With a beautiful tone, it is a perfect piece to decorate the environment as it has neutral and super charming colors as well. Comfortable and beautiful it is very easy to make, you will love the result. Crochet is very useful for decorative pieces that complete the look of the house with comfort, leaving everything very elegant and charming, like this wonderful blanket we brought today. The blanket for sofa and bed has been used more and more and is already part of the decoration even for Christmas.
Use your creativity and make beautiful pillows to match the blanket and add a touch of charm and good taste to your living room, you will love the result this combination will have. With little material and using your knowledge in crochet, just follow the tutorial available and make this magnificent blanket. Retro Ornament Throw that can also be used as a bed rail.
Elegant and with a stylish touch, this work is simple and easy to do and it is worth investing in the beautiful stitch used here, which looks amazing. Perfect for the coldest days and it can keep us warm when we are watching that beautiful movie on the couch with the family or alone. Comfortable and beautiful is very easy to make.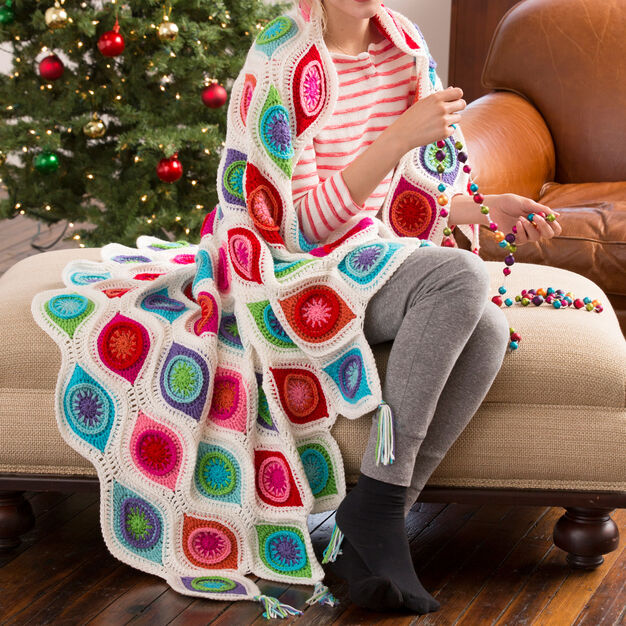 See Also:
➽ Pattern Amigurumi Snowman
➽ Crochet Easy Baby Sweater
➽ Diamond Charms Quilt
Retro Ornament Throw
Pattern/Images/Tutorial: Yarnspirations
[activecampaign]
What you will need:
RED HEART® Super Saver®:
2 skeins 316 Soft White A, 1 skein
each 319 Cherry Red B, 706
Perfect Pink C, 718 Shocking Pink
D, 726 Coral E, 672 Spring Green
F, 505 Aruba Sea G, 358 Lavender
H, and 512 Turkey I
Susan Bates® Crochet Hook:
5.5mm [US I-9]
Yarn needle
GAUGE: 1 ornament motif = 4½"
wide x 5½" long (11.5 x 14 cm);
Rounds 1–3 = 3½" (9 cm). CHECK
YOUR GAUGE. use any size
hook to obtain the gauge.
This festive throw takes a spin into the sixties with
a pattern that resembles glass ornaments. The
ornaments are joined into strips with the light
background setting off the bright colors. Tails from
the strips are gathered into tassels.
Throw measures 45″ wide x 55″ long
(114.5 x 139.5 cm).
Special Stitches
bphdc (half double crochet back post)
= Yarn over, insert hook from back side of
work to front and back again around post
of indicated stitch; yarn over and pull up a
loop (3 loops on hook), yarn over and draw
through all 3 loops. Skip the stitch "in front
of" the Bpdc.
dc2tog = [Yarn over, insert hook in next
stitch, yarn over and pull up loop, yarn over,
draw through 2 loops] 2 times, yarn over,
draw through all 3 loops on hook.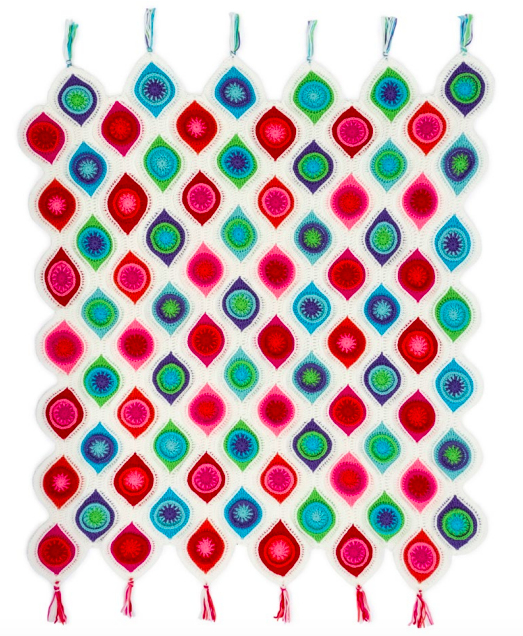 Our Team's Opinion About This Pattern
Retro Ornament Throw, a beautiful blanket made in a very pretty stitch that I'm sure you'll love, they have a charming and wonderful touch that everyone is sure to love, you'll like it, believe me. This is a piece that is always needed, that's why it is so famous and required . This piece will surely make your customers want one like it, which will help you in sales!!
Want to craft this amazing Retro Ornament Throw? Then set aside all your material and tools before starting your piece so that you already have everything close at hand, this way it'll be easy to carry out this project, follow the tutorial carefully, make your piece while following the tutorial and I' m sure that you will be able to make this amazing work easily.