Amazing Crochet Wedding Dress – Free Pattern
Hey sweeties! Looking for an amazing crochet dress model? I think we have the pattern you need. Crochet is such an incredible craft, which allows us to make the most varied pieces. Whether clothes, accessories, decorative pieces, rugs, everything can get even more personal when we do it. The Amazing Crochet Wedding Dress is beautiful, a long, long-sleeved model.
It has two beautiful slits on the sides, which make the movement of the piece more comfortable for walking and does not restrict movement. Crochet dresses have evolved a lot in recent years and more and more modern models are being created. Before, crochet was seen as a homemade craft, not so much value was given to these pieces.
Over the years and modernization of the technique, new models were emerging, one more elegant than the other. This made the craft to be used on different occasions, increasing the elegance of the pieces. As much as the name of the piece is a wedding dress, you can enjoy the model and make it in other colors too. From this pattern, you can make some adjustments. You can make the dress shorter, shorten the sleeves too.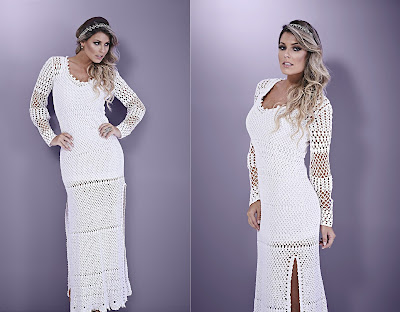 Image / Pattern / Tutorial: Crochet and Knitting
Think of this pattern as a base and, from there, use your creativity to create new pieces. Can you imagine gifting a dear person with this beautiful dress? I'm sure she will be very grateful and feel special to receive such a personal piece. You can do it to sell too, it will be a success. The Amazing Crochet Wedding Dress pattern is available in Crochet and Knitting. In addition to the step by step, a diagram is also available.
Before starting to crochet, focus on understanding the pattern, knowing how the necessary stitches are made. If you are not satisfied with the result, take it apart and try again. The important thing is not to give up, try again. Did you like this pattern? Tell us here in the comments. We will be very happy to hear your feedback. Time to separate the materials and start crocheting!