Glacadh – Crochet Pattern
Hello my loves! What a pleasure to meet you here. We hope you are also having an amazing week out there. Shall we make everything more beautiful? Today we want to share another amazing crochet pattern. Glacadh is an incredible piece that makes all the difference in our look. Look how beautiful it is in the body. It's a piece that we usually wear on milder days, not so cold. But this will depend a lot on the yarn you choose.
If you're looking for a warmer piece, choose thicker yarns. Wool is a great choice. Thinner Yarns, pieces for cooler days. The yarn colors also make all the difference. See how beautiful the shades of green, blue and gray the designer chose. You can follow the same color palette or choose others. Also, you can make the entire piece one color if that's what you prefer.
But don't hold on to that, choose and start crocheting. When we are going to make the clothes, it is normal to have difficulties with the sizes. But don't worry, the patterns teach us how to increase or decrease sizes. In addition, several sizes are available. Measure what works best for you and follow these instructions. This pattern is for those crocheters who are ready to create a simple garment.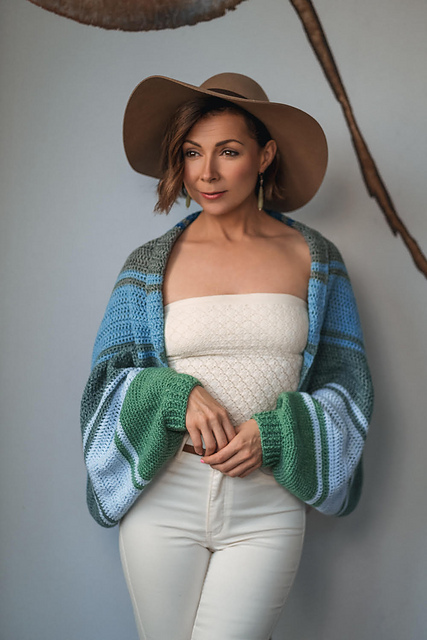 Image / Pattern / Tutorial: Expression Fiber Arts
Glacadh is an Irish word for embrace. This quick-to-stitch shrug hugs your shoulders and wraps your arms in snuggly softness. Worked from side to side, you start by working a ribbed cuff in the round, increasing stitches as you progress up the sleeve. Then you switch to working flat in rows, adding some stripes as you change colors. Once you reach the center back, you do it all again in reverse! Use herringbone double crochet stitch to match the texture shown in the sample.
If you prefer, you can substitute traditional double crochet stitches. This shrug is offered in three sizes so that you can choose a wingspan that fits best. Ready to crochet? The pattern is available from Expression Fiber Arts. Read it a first time and then just start crocheting. If you have any doubts, ask us here. But not only that, we want to know what you think, what pieces you want to learn, have your feedback. Now, let's crochet!