You know that quilt that looks like a real painting? This is Waterfall, a quilt that mixes shades of blue, purple and black. In addition to being beautiful, it has this effect of depth, an optical illusion. It is perfect in various environments, in the bedroom, in the living room, in an armchair. The quilts are not just for decorating, they can also warm you up on the cooler days.
Thicker linings are perfect for winter quilts. If you want a decorative quilt, you can use thinner linings. All of these are choices that practice will help you fine-tune the details. As well as the combinations and choice of fabrics. To maintain the illusion effect that the pattern has, it is recommended to keep the same shades.
You can choose other colors, but pay attention to the darker and lighter tones that the pattern calls for. This type of quilt, as charming as it is, is not recommended for beginners as it has more cutouts and strips to sew. But if you're feeling confident, go ahead and take a chance. Just like any hobby, practice will give you more confidence to make different combinations and quilts.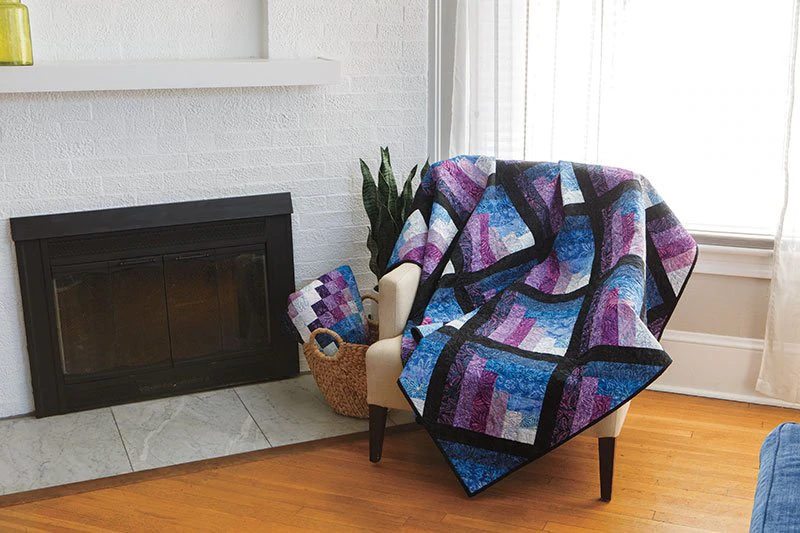 Image / Pattern / Tutorial: Busy Hands Quilt.
The waterfall quilt pattern you can find at Busy Hands Quilts. The pattern includes all the cutting and assembly steps, fabric and color suggestions and important tips to complete the project. We hope you like this pattern a lot, it is charming.
If you have quilts as an extra income, you can be sure that this pattern will be a hit with requests. It is always a great joy to have you here to learn so many beautiful things together. Enjoy the weekend to practice these beautiful techniques. May you have a great weekend, colorful and full of crafts. See you soon!