Rhapsody in Blue – Quilt Pattern
Hi! Shall we make a quilt? This pattern may even have a different name and look complicated, but it's not, Rhapsody in Blue. The name brings the main color used in the quilt pattern, blue. I love blue, I think it's a color that conveys tranquility. In addition, it is an easy color combination and you can use it in various environments.
You can and should vary the tones and prints to have a more beautiful result. To assemble the quilt, you will make blocks with nine smaller squares. These blocks are assembled together with larger squares of a single pattern. Although the name of the pattern is Rapsody in Blue, you can make other quilts in other colors.
This pattern is too cute to have just one quilt. As with other quilts, wash all fabrics before starting. Dry, iron and start markings to make the cutouts. I always like to have all the pieces cut out to start sewing. So, you work in stages, complete one and move on to the second. You will see that this will optimize your production.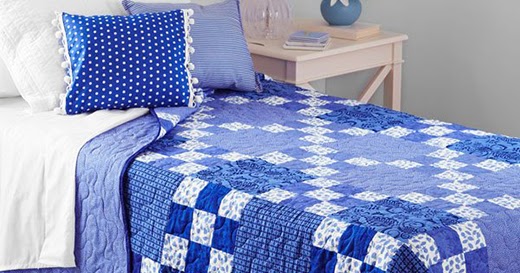 Image / Pattern / Tutorial: All People Quilt
Once everything is cut out, it's time to assemble. Assemble the quilt, securing the cutouts with pins. Check if any pieces are missing to cut and time to sew. Generally, quilts for winter have a thicker batting. If you are going to use the quilt for decoration only, the batting can be quite thin. The complete pattern for this quilt is available at All People Quilt.
There you have all the tips you need, materials list, diagrams, step by step. We are very happy to see you here, to learn new techniques and craft patterns. Our artisan work is very valuable, keep practicing and doing it with all affection and dedication. Now that we have everything ready, shall we quilt?