Patchwork Duvet Cover – Quilt Pattern
Hi my loves! Today we are going to learn a very beautiful quilt that you can make in one day. The Patchwork Duvet Cover is colorful and with very cheerful prints, perfect for the children's room. The pattern is simple to make, you'll see. The parts are large and therefore the assembly can be considered easier and faster.
If you're new to quilting, this one is perfect to get you started. To make it you will need to cut large triangles that fit together easily. they are straight cuts, easy to mark and make. When making the lines for cutting on the fabric, always use the wrong side. That way, if the marker smudges or doesn't come off completely after washing, it won't show up in your quilt.
When choosing quilt fabrics, choose good quality fabrics to have a perfect quilt for longer. If you want to wash the fabrics before starting, it is recommended. Colors that are too dark can release excess ink and smear lighter tones. After washing the fabrics, iron them to make them straight. It makes it easier for you to make the markings and cuts.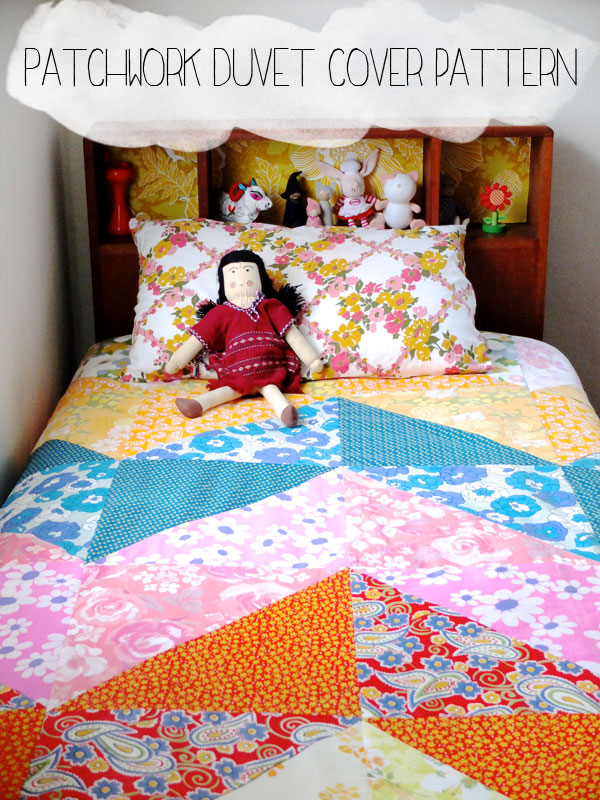 Image / Pattern / Tutorial: My Poppet
These bedspreads are perfect for decorating bedroom beds, it makes all the difference in decor. If you want to get the kids to help you choose fabrics, they'll love it. You can't go wrong. Quilts are perfect for gifting to friends. The complete duvet cover patchwork pattern is available on My Poppet.
It has the step by step, measurements, fabric and color suggestions to inspire and guide you during the project. We hope that with this model you will be inspired and want to make a lot of quilts. Whether to sell, to gift, or to decorate the house. We are very happy to see you here, to learn together many amazing crafts.