My Colourful Town – A Wonderfull Pattern
Hey loves! What a pleasure to see you here. I am very happy every time I have this contact with you. Crafting is very important to me. It is often my moment of relaxation, an incentive to learn new techniques and renew the look of the rooms at home. Not to mention the pride I feel in each completed project, knowing that we are capable of incredible things awakens a very good feeling in us, I hope you feel that way too.
Today's project is beautiful, delicate in a different way, colorful and perfect to decorate the most different rooms. My ColorfulTown Quilt creates this beautiful illusion of a colorful city in a simple and beautiful way. Colorful is certainly an apt description of this wonderful quilt, where clever piecing creates the illusion of a vibrant town filled with multi-coloured houses. It looks complicated but is more straight forward than you might think, being made up of different units pieced together into columns.
With the right colors, you can decorate from the children's room to the living room with the same quilt. Inside the pattern there is a very incredible tip that we decided to highlight so that it doesn't go unnoticed by anyone. "Because solid fabrics are being used, you can rotate the shapes as needed on the fabrics to get the best, most economical fit. Where a long eighth or long quarter of a yard is given in the materials list you could use a fat eighth or a fat quarter instead".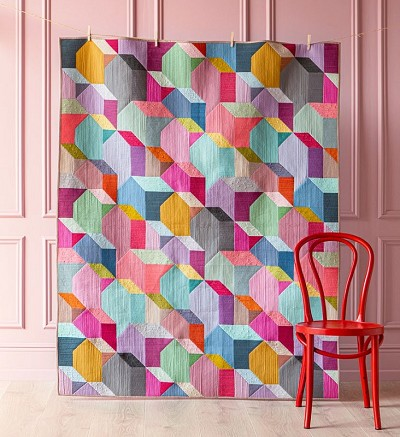 Image / Pattern / Tutorial: Tildas World
I don't know about you, but whenever I see quilts that need a little matching fabric, which can be a beautiful mix of colors, I think of scraps left over from other projects. You know that box right? It's always important to keep all the pieces, believe me. In the beginning, I remember some episodes where a piece of a color that I had thrown away was missing and I really regretted it.
Now all the scraps, but all of them, go into my scrapbook box. When it's too full, it's time to look for a different pattern to make. This pattern is very complete, with all the information we need to make it. But if there is any doubt, you know you can count on us here for the comments. As we have already tested it, we can guide you if you need it. My colorful town quilt pattern is available at Tildas World. Come, come do this project together with us!