Garden Paths – Quilt Pattern
Hello darlings! Ready to learn yet another new quilt pattern? Today we are going to do Garden Paths. This pattern has a very versatile design. It looks beautiful on beds and sofas, the most common places to use. This pattern combines a lot with open environments too, a balcony, a backyard. Perfect for snuggling up at the end of the day, reading a book, watching the kids play. So, you are protected from the fresh wind with a wonderful quilt.
To make the quilt, you will learn how to assemble the blocks. In this pattern, you will need to make different blocks. Star Blocks and Irish Chain Blocks are the models used in the quilt. The best part of quilts like this is that you learn different types of sewing. To compose the decoration, you can make pillows with the design of the blocks.
Whether with similar prints, colors of different tones, you can compose the entire decoration of the environment. The pattern has all the measurements of the fabric cutouts, so if you want to assemble pillows, just increase the measurements and make the pillow the size you want. This also works if you want to change the size of the quilt.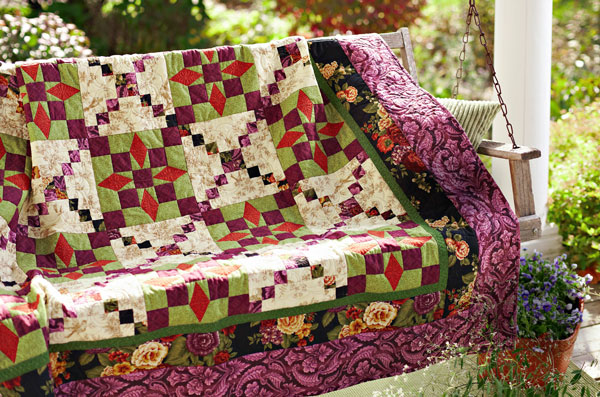 Image / Pattern / Tutorial: All People Quit
The easiest and fastest way to increase the size of your quilt is to increase the border. To decrease, use the same logic. So, you can keep the measurements of the central pattern of the piece, it is much easier to make just one change than to change all the measurements. The garden paths complete pattern is available at All People Quilt.
You will find all sizes of fabrics, binding, backing. I really like patterns that have the step-by-step diagram, it helps me a lot to understand the seams. I hope they are very useful for you too. Don't forget to tell us what you think of the pattern and how it was to assemble this beautiful piece for your home. Hope you are enjoying quilting as much as we are.