Farmhouse Pillow – An Amazing Free Pattern
Hey loves! How nice to meet you here. I am very happy to know that you like what we share here. We are always looking for complete patterns, different combinations and interchanging techniques, in order to reach as many people as possible. And if you're like me, you like to sew a little, then crochet and so on, stay here and you'll love the pattern sequence we've brought. Today's project is smaller, but no less incredible.
The Farmhouse Pillow is this beautiful model, very delicate and still full of colors. Some of the decorative items that most bring life to the house are cushions and pillows! In addition to being essential items for comfort, the other advantage of these pieces is that you can keep several different pillow cases and covers stored to change whenever you want and give the environment a new look.
And for those who are just starting to venture into sewing, pillowcases are one of the easiest fabric crafts to make at home. To assemble patchwork cushion covers and pillows, the first step is to gather scraps of fabric in different sizes, which can be reused in handicrafts, or even those pieces of clothing that you no longer use. It is worth remembering that the seams can be made using a sewing machine, or even manually, according to your preference and techniques that best adapt to your work style.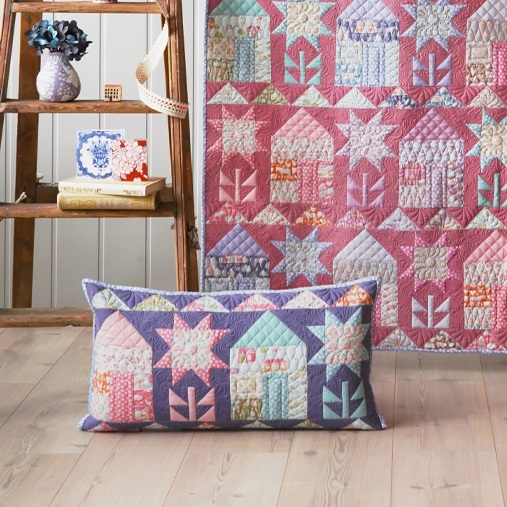 Image / Pattern / Tutorial: Tildas World
Here are some general tips for this pattern, pay close attention because, even if they seem like simple items, they make a difference when quilting. Fabric quantities are based on a usable width of 42in (107cm), unless otherwise stated. Measurements are in imperial inches with metric conversions in brackets – use only one system throughout (preferably inches). Width measurements are generally given first. Press all fabrics before cutting.
Use ¼in (6mm) seams unless instructed otherwise. Read all the instructions through before you start. The farmhouse pillow pattern is available at Tildas Word. And you already know right? If you have any doubts, tell us here in the comments. We also want to know what you think of the pattern, follow-ups of what you want to learn. Let's make the end of this year even more incredible, come quilt with us.