Double Charm Pack Baby Quilt – Free Pattern
Hi my loves! How nice to see you here again. We are very happy and excited to test new patterns and bring them here to share with you. Today we are going to learn how to make that quilt that will complement our little ones room, the Double Charm Pack. Quilts are essential pieces that make all the difference in our daily lives. Whether to decorate the environment or to accommodate the little ones, quilts always give that feeling of coziness and comfort.
With this pattern it couldn't be different. In addition, it is a simple model that you will be able to make quickly and use the combinations you like best. In this pattern, the designer opted for a plain colored fabric and other very colorful prints. You can follow the same logic and diversify your prints, it is very easy to combine different designs.
If you have some scraps left over from other projects and the size is enough, you can take advantage and reuse them in this pattern. Quilts are essential items in every baby's layette, why not match the prints with the colors of the layette? It will be very beautiful and will be another piece to make our little ones cozy.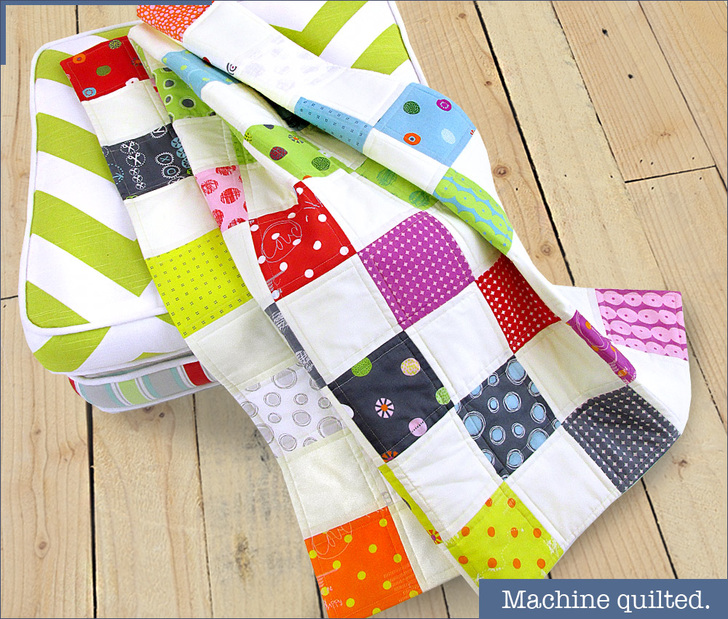 Image / Pattern / Tutorial: Sew 4 Home
When choosing fabrics, make sure they are quality and the touch is soft to the skin. This way you will have a piece that lasts longer and does not irritate the skin of the little ones. You can follow the step by step available at Sew 4 Home. If you want to make a larger quilt, just increase the number of squares. To decrease, use the same logic, decrease the number of squares.
It's a great option for gifting loved ones or selling and having extra money at the end of the month. The important thing is to keep practicing, keep sewing and improving the techniques. Don't forget to tell us what you think in the comments. Take the opportunity to say what you want to learn, we are very happy to see your feedback and suggestions. Shall we quilt?