Bookcase Quilt – Free Pattern
Hello my loves! We hope your week is going to be amazing. We're always here, sharing new pattern ideas for you to be inspired by. Whether quilting or crocheting, we hope the ideas help you to be even more creative. Today we are going to sew, make a very different and charming quilt. The bookcase quilt is that perfect model for those who love to read.
The pattern imitates a bookcase, with some details that make everything even more beautiful. The tones of the bookshelf and background should be darker, to contrast with the book covers. You can add custom details, see the details on each quilt. This pattern is the perfect opportunity for you to use those scraps left over from other projects.
When we start to sew, we buy the right amount of fabric, but there is always something left in the middle of so many cuts. To make the most of them, you can use them in other quilts. As for the size, if you prefer to make a smaller one to use in decoration, just reduce the size of the clippings. The pattern is very detailed, with all the steps and tips that help you to assemble the quilt in the best way.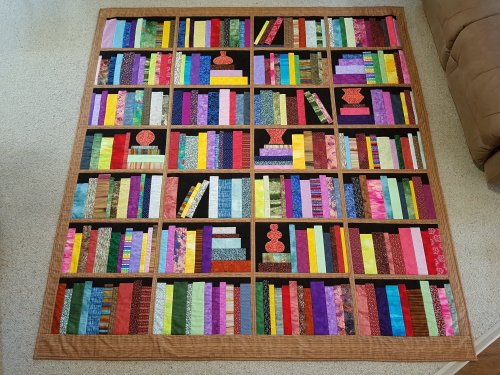 Image / Pattern / Tutorial: Fabric at Work
As much as the books are all colorful, combine the colors in a way that looks really nice. Darker fabric colors may bleed a little in the first few washes. Many people recommend washing the fabric before starting to cut, to remove excess. You can do this, but don't forget to iron the fabric once it dries. A straight and smooth fabric is much easier to make the markings and cuts.
The quilt pattern is available from Fabric at Work. We hope we can inspire you to keep creating new quilts. Be very proud of all the pieces you create. Each one of them has all their time and affection dedicated. Whether to gift a loved one or to sell. Rest assured that the person receiving it will love it.