Emma Crochet Square is very beautiful and can be used in different types of work, such as quilts, table runners, blouses, etc. This type of work has drawn attention and in the most diverse types of designs it has been very successful because it helps to form beautiful pieces with enormous charm. This is a crochet that can be done easily and that, when joining the pieces, gives a very beautiful and charming result. This type of work is highly valued because it requires dedication and patience when making the pieces and has a worthwhile result.
This square recipe is simple and has a very beautiful and charming result that you will love. It's worth investing in pieces like this to compose your products for sale to make them look beautiful. These pieces with colorful and delicate details draw attention for their charm. The blankets and quilts made of squares are increasingly drawing attention for their beauty and making a great success in craft sales.
Crochet squares are also called grandma's squares. They are those crochet washcloths. In general, these square towels have a beautiful design in the center that help to give a special style to the work. It can seem difficult when looking at work. But, with dedication, you'll be able to create amazing pieces with squares.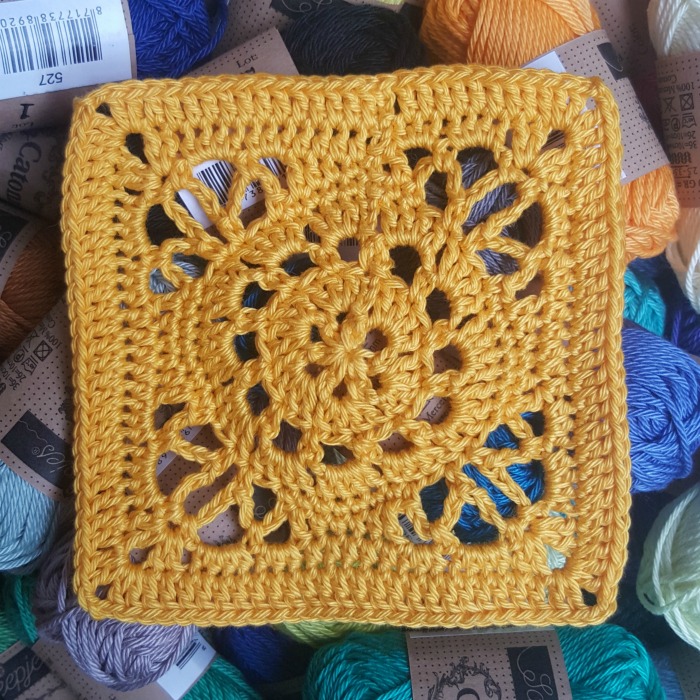 See Also:
➽ Pattern Amigurumi Snowman
➽ Crochet Easy Baby Sweater
➽ Diamond Charms Quilt
Emma Crochet Square
Pattern/Images/Tutorial: Look At What I Made
Materials
Hook Size
Small 3mm Catona
Medium 4mm Undyed Merino DK
Large 5mm* Riverwashed XL
Abbreviations
US Terminology (US/UK Conversion HERE)
Beg – Beginning
Ch – Chain
Dc – Double crochet
Hdc – Half-double crochet
Rem – Remaining/remains
Sc – Single Crochet
SL st – slip stitch
Sp/sps – Space/spaces
St/sts – Stitch/stitches
Punctuation
An asterisk indicates pattern repeats. You will need to repeat all the instructions between asterisks the number of times specified. This is a hard-core repeat and will consist of multiple instructions.
Parentheses () indicate repeats. You will need to repeat the instructions between parentheses the number of times specified. This is a lower level repeat.
Notes
I am calling Round 8 'Optional' because you can stop at the end of Round 7 without losing any of the simple aesthetics of the square. If you are using mini skeins/balls of yarn, you might not have enough in each color to complete all eight rounds. If this is the case, you can fasten off at the end of Round 7 for all your squares.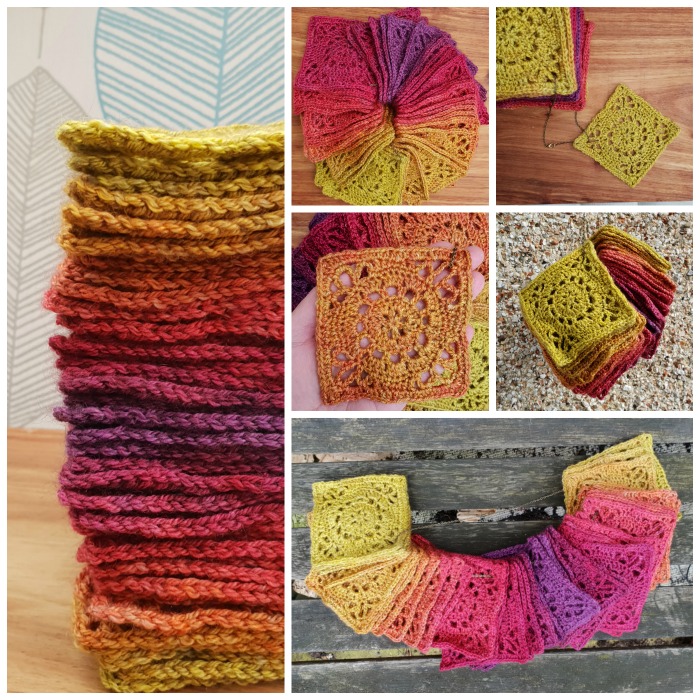 Our Team's Opinion About This Pattern
Emma Crochet Square, a beautiful piece that you will surely love, is a very beautiful and charming piece that will help you make charming and incredible pieces. This piece has beautiful charming details that will leave your piece with a very charming and stylish touch that you will surely love. This is a piece that is always needed, that's why it is so famous and required. This piece will surely make your customers want one like it, which will help you in sales!!
[activecampaign]
Want to craft this amazing Emma Crochet Square? Then set aside all your material and tools before starting your piece so that you already have everything close at hand, this way it'll be easy to carry out this project, follow the tutorial carefully, make your piece while following the tutorial and I' m sure that you will be able to make this amazing work easily.