Flower Power Baby Sandals – Free Crochet Pattern
Hello sweeties! Shall we learn another beautiful pattern? Today it will be a sandal for our little ones, to make them even more beautiful and complement the look in a charming way. The flower power baby sandals are charming, with details that fill our little ones with a lot of charm. Baby items always sell very well because, in addition to being beautiful, they are comfortable for little ones.
 Because it's a crochet sandal, it's malleable, doesn't squeeze babies' feet. All moms enchant, impossible not to want one of each color. This pattern is more suitable for cooler days, as it is an open sandal that leaves your little feet exposed. To adapt and use on cooler days, you can put a sock underneath, which matches the look and sandal.
This pattern is not difficult and is quick to make. If you haven't had much practice yet or are just starting to crochet, this could be the piece for you. Because it's a small piece, you can finish it faster and can be a motivation to keep learning. As for yarns, choose the ones you like the most, keeping in mind that it's for babies.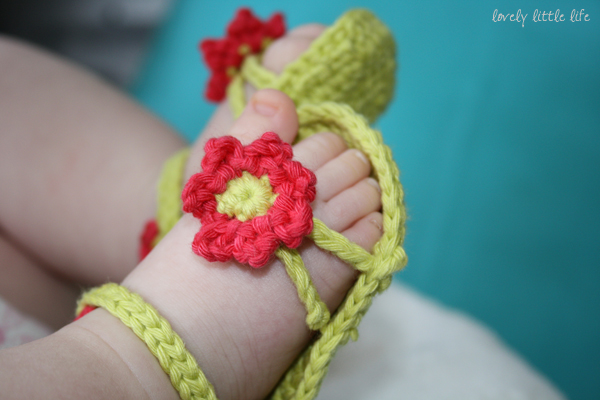 Image / Pattern / Tutorial: Lovely Little Life
Almost every brand has lines just for babies, perfect for patterns like this. Make colorful flowers, colorful sandals, abuse creativity. The flower power baby sandals pattern, from start to finish, makes a sandal. To make the pair, repeat the step by step available in Lovely Little Life. This pattern makes one pair of sandals sized 0-6 months, approx. 11cm from toe to heel.
It is always very gratifying to have you here so that, together, we can learn many beautiful crafts. Whether for you, to sell or a hobby, take the opportunity to practice every day. There is no better way to evolve than by practicing. We want to know what you think, leave your opinion here in the comments. We keep an eye on everything, always trying to bring you the best ideas and patterns. All right? Time to crochet!